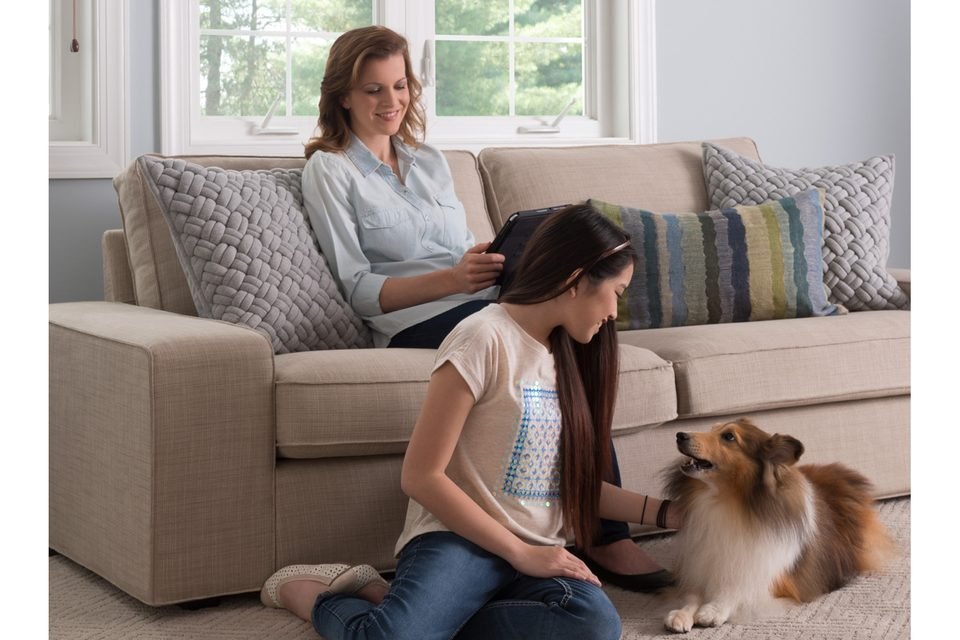 Your couch is one of the most-used pieces of furniture in your home, so it's no surprise that it gets dirty fast. Couches seem to serve as a magnet for pet hair, dust, crumbs and other debris. If your couch looks a bit worn and dated, vacuuming it will perk it back up. It's safe and effective to clean most couches with the upholstery attachment for your vacuum cleaner.
Step

1
Determine how often you need to vacuum your couch. If it's used regularly by people or pets, you'll need to vacuum once or twice a week. If the couch isn't used often, vacuum it every 30 to 90 days.
Step

2
Empty the vacuum cleaner's dustbin into the trashcan before cleaning the couch. If your vacuum has a sponge-type foam filter, remove it from the machine and rinse it with cool water and a few drops of dish soap. Wring out the water and allow the filter to dry before reinstalling it.
Step

3
Activate your vacuum's dust sensor, if it has one. Some vacuums have a dust sensor that glows red when the machine detects a dirty area. When the spot is completely clean, the light glows green. This helps you clean the couch quickly and efficiently.
Step

4
Remove all the couch cushions and set them aside on a table or on the floor.
Step

5
Attach the upholstery brush to the vacuum's nozzle. The upholstery brush is best for cleaning delicate fabrics.
Step

6
Power on the vacuum and run the upholstery brush over the top, sides and arms of the couch. Vacuum the crevices and nooks below the arms and between the cushions on top of the couch. If the top cushions lift up, lift them and vacuum underneath them. After you finish a section, go back over it with the brush again to pick up any remaining debris.
Step

7
Vacuum the surface beneath the couch cushions. When vacuuming, look out for coins, small toys or other objects that may damage the machine. Remove these objects by hand to prevent them from being stuck in the vacuum.
Step

8
Run the upholstery brush over each cushion. Vacuum the front, back and sides of the cushions.
Step

9
Fluff each cushion by hand. Flip the cushions over to the side that you don't normally sit on and then place them back on the couch. They wear more evenly when you flip them each time you vacuum.
Tips
Some vacuum cleaners have a UV-sterilization brush that kills germs and bacteria as it cleans. You may find this helpful if you or someone in your home suffers from allergies or frequent colds.

Some vacuums may emit dust particles after you've cleaned them up. To avoid this, use a vacuum with a dual-chamber system. This type of vacuum holds debris in the dustbin to prevent it from coming back out.

No matter how much you clean your couch, you can't kill the dust mites hiding in the cushions. Cover cushions with machine-washable slipcovers to prevent dust mites from triggering an allergy or asthma attack. Launder the slipcover weekly in an active home.

Check your couch's care tag to determine the best way to clean spots and stains. If you see a "W" on the tag, you can clean with water-based treatments. An "S" means that the couch requires a water-free treatment. You can clean "WS" couches with either type of treatment. An "X" label means that the couch needs vacuum-only care, and you can't use any water or chemical agents on it.
Warnings
Do not machine-wash couch cushions. Doing so may cause them to shrink.

If you have a leather couch, do not clean it with oils, soap, sprays or furniture polish.
We Recommend
Samsung is a registered trademark of Samsung Electronics Co., Ltd. All other brands, products and services, and their respective trademarks, names and logos, are the property of their respective owners. All apps referenced, except where otherwise noted, are available in the Samsung GALAXY Apps store. For more information on any referenced apps, products or services, see the respective websites.
The above content is provided for entertainment and information purposes only. All information included herein is subject to change without notice. Samsung Electronics is not responsible for any direct or indirect damages, arising from or related to use or reliance of the above content.