State of the art is a moving target in the fast-changing mobile world, but sometimes a new phone raises the bar dramatically. The Galaxy S®6 and S®6 edge fall into that category. You'll find plenty of reasons to own and love one, but here are a few to get you started.
1. Smart Manager
View and manage your battery life, your storage, and your security. Delete unneeded files, or shut down apps; everything you need to maximize performance all on one screen. Just put the widget on your home screen, and tap the icon you want. Sweet.
2. Leading the Charge
Even with Smart Manager to help you tweak your usage, you'll need to charge occasionally. With the Galaxy S6 and Galaxy S6 edge, you can choose fast charging to add up to four hours of battery life in just 10 minutes. Or you can charge wirelessly, almost anywhere there's a charge pad.
3. A Rockin' Camera
Autofocus that's smart enough and fast enough to keep up with the game, amazing low-light performance, and even a wide-selfie mode so you can get everybody into the shot. Oh, and it launches in a split second when you double-tap the Home button.
4. Look Sharp
Photos, presentations, streaming content...everything looks better at higher resolution. The 5.1-inch Quad HD screen checks in at 577 pixels per inch pixel density. That's one of the highest in the industry, if you're keeping track.
5. Better Storage
The Galaxy S6 and Galaxy S6 edge are available with up to 128GB of built-in storage, using the high-speed UFS 2.0 spec so saving and loading files won't slow you down anymore.
6. Serious Multitasking
Technically, you can multitask with any phone, but switching between apps is a pain in the butt. The Galaxy S6 and Galaxy S6 edge use Samsung's Multi Window™ technology to put dual apps on-screen at once, like your computer. Just drag any two supported apps onto the screen, and resize them the way you want them. Now that's useful.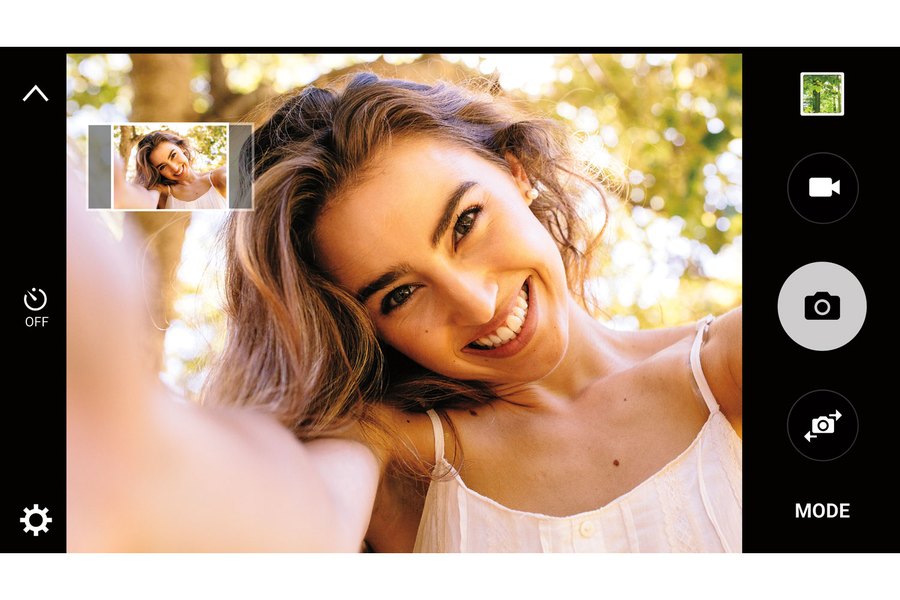 7. Raw Power
A great camera, superior screen and better multitasking all have one thing in common: They all need some serious processing power to work properly. The Galaxy S6 and Galaxy S6 edge have that covered, with a powerful processor. It's Samsung's own 64-bit, octa-core processor, if you're curious. Consider it the muscle car of phones.
8. Look Ma, One Hand
All the power in the world doesn't matter if you can't use it effectively. The sleek new version of the TouchWiz interface requires fewer taps and fewer steps, and offers easier one-hand operation for both righties and lefties. What's not to like?
9. It's Nice to Share
When you need to share large files with friends or colleagues, uploading them to the cloud and then sharing links is pretty tedious. With your phone, you can use Share With Contacts to send them over Wi-Fi®, your carrier's network, or phone-to-phone with just a few taps.
We Recommend
Samsung is a registered trademark of Samsung Electronics Co., Ltd. All other brands, products and services, and their respective trademarks, names and logos, are the property of their respective owners. All apps referenced, except where otherwise noted, are available in the Samsung GALAXY Apps store. For more information on any referenced apps, products or services, see the respective websites.
The above content is provided for entertainment and information purposes only. All information included herein is subject to change without notice. Samsung Electronics is not responsible for any direct or indirect damages, arising from or related to use or reliance of the above content.