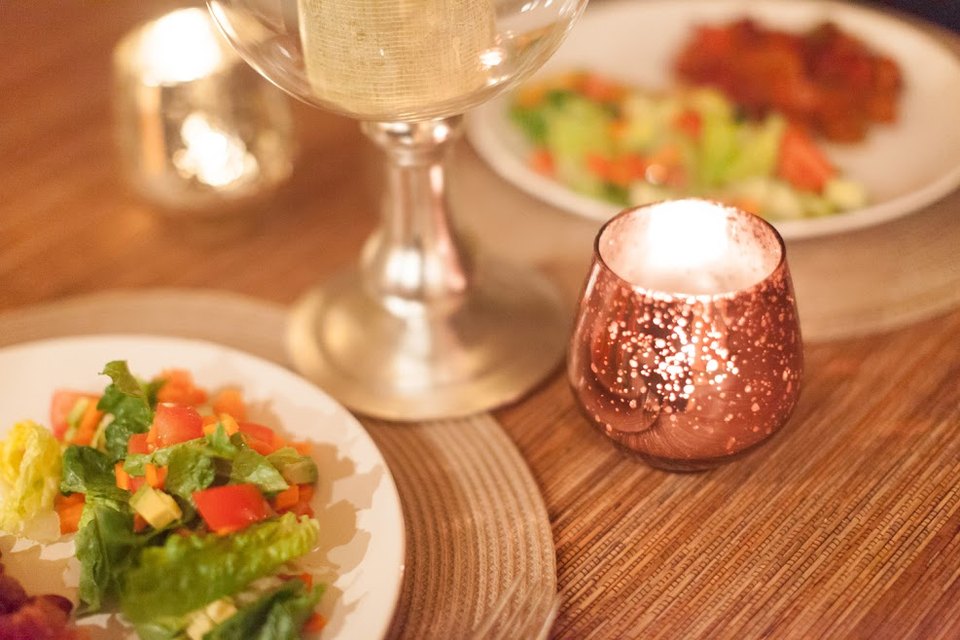 It's nice to splurge on a romantic dinner at a restaurant sometimes, but nothing beats a relaxing meal for two at home. By dining at home, you can control the menu as well as the evening's entertainment.
Plan the Menu
Even if you already have a special dish in mind, it's smart to ask your partner what she likes to eat. If she's a vegetarian or has food allergies, you'll need to know before planning a meal. You may want the meal to be a surprise, but it's better to share your intended menu with your partner ahead of time. Listen to her suggestions, and you'll look like a thoughtful and caring mate.
It's sometimes tough to plan dinner when you or your partner has special dietary needs. You'll find hundreds of appetizing dishes online. Search for specific food terms, such as "gluten-free" or "kosher," followed by the word "recipes." You can bookmark the best recipes so you'll have plenty of choices now and for future dinners.
For something different and unexpected, try a meal of appetizers and finger foods instead of a big sit-down dinner. Finger foods work well for snacking during other activities, such as watching movies or playing games.
Atmosphere
Your home might not rival the elegance of a fancy four-star restaurant, but you can still impress your partner with a charming and romantic atmosphere. Start by cleaning up the dining room and anywhere else your partner might go, including the bathroom, kitchen, living room and bedroom and living room. If your partner lives with you, you'll score extra points for tidying up your home.
Bright lights are jarring and distracting. Switch your 60-watt bulbs for something a bit dimmer, such as a 40 or 25-watt LED candle bulb. These bulbs offer the intimate feeling of candlelight, but lack the hazards of real fire.
Choose appropriate music for the evening that both you and your partner enjoy. It's hard to go wrong with some relaxing jazz or piano tunes. Make a playlist for a few hours of favorite songs using your computer's media-player software. You can play your songs directly through the computer speakers or on an MP3 player connected to your TV or stereo speakers. Set the playlist to repeat once it reaches the end so nothing interrupts your romantic evening.
Cooking
Don't start cooking until your partner arrives at your home. You want to serve the meal when it's hot and fresh; food that's been drying out in a pot for 20 minutes isn't very appealing. One exception is if you're cooking a dish that takes hours to make, such as a large roasted chicken or turkey. If your partner enjoys cooking, she may offer to help you make the meal. Even if you have a small kitchen, a stove with five burners and a high-capacity oven gives you plenty of room to work together.
Prepare your ingredients in advance and have them ready to cook so your partner won't need to wait long for the meal. Preheat the oven, chop all vegetables, measure spices and set out your pots and pans before she arrives. If you're cooking from a recipe, read over it at least once and have it ready in the kitchen. If your refrigerator has a built-in Wi-Fi®-enabled touchscreen, you can also look up a library of online recipes directly from your kitchen. Or use your tablet's browser or file system to display the recipe in an easy-to-see spot.
Activities
The fun doesn't need to end after dinner. Keep the night alive by watching romantic movies on TV or dancing to the playlist of songs you set up on your computer. Go for a walk around your neighborhood or head to the local park and sit on the swings.
If you and your partner like playful competition, try some card games or board games. Many couples enjoy playing two-player video games together. Your partner may prefer cooperative games that task you with solving puzzles as a team. If your partner's not familiar with video games, stick with a game that has simple controls and a straightforward goal.
Photo Credits: Kyle Goldie/Demand Media
We Recommend
Samsung is a registered trademark of Samsung Electronics Co., Ltd. All other brands, products and services, and their respective trademarks, names and logos, are the property of their respective owners. All apps referenced, except where otherwise noted, are available in the Samsung GALAXY Apps store. For more information on any referenced apps, products or services, see the respective websites.
The above content is provided for entertainment and information purposes only. All information included herein is subject to change without notice. Samsung Electronics is not responsible for any direct or indirect damages, arising from or related to use or reliance of the above content.