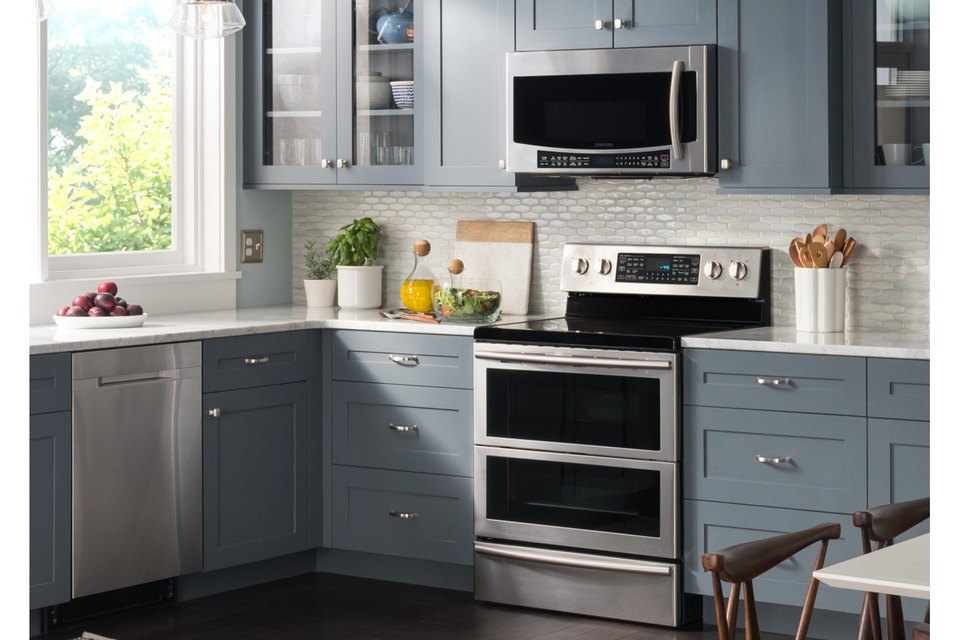 Remodeling or redesigning your kitchen yields better results when you start by figuring out the type of space you want and the way you want to cook in it, rather than focusing on cabinet styles, countertop materials or flooring. Whether you use a microwave oven as a convenience device or integrate it closely into your overall food preparation, aligning its placement relative to your range can raise the flexibility of your appliance layout.
Over-the-Range Microwave
The easiest way to place microwave and range cooking in the same vertical plane comes when you install an over-the-range microwave oven. Designed to match the width of your range and to fit between the cabinets immediately above a slide-in range or one with a built-in backsplash, this convenient version of the familiar countertop-dwelling appliance expands your work space by returning a chunk of it to its rightful function. Unlike its standalone sibling, the OTR microwave requires some professional help to get it installed correctly into cabinetry.
Range Hood
If you planned to put a ducted hood over your range to whisk away cooking steam, smoke and odors, an over-the-range microwave oven can cover those ventilation needs within the same appliance you use to make popcorn and prepare quick meals. Some OTR models enable you to choose from more than one venting arrangement, so you can run ductwork out the back or through the top of the unit, whichever matches your kitchen layout best. OTR microwave ovens also take care of the range hood's second kitchen-helper task: providing a light source to illuminate the burners or elements on your range top. Look for LED lighting with long-lasting lamps that use less energy than filamented incandescent bulbs and produce almost no byproduct heat.
Cooking Options
Some microwave oven designs incorporate additional cooking modes for greater capabilities beyond basic operation. A convection-cooking mode enables you to bake, roast meats and coordinate side dishes with the rest of the meal you prepare on and in your range. With a toaster-oven mode, your microwave doubles its timesaving convenience by simplifying the task of preparing quick breakfast dishes, small meals and servings, and readying breads for use in sandwiches. A multitalented microwave increases the number of meal components you can complete without moving from appliance to appliance, especially if you choose one that also installs over the range.
Other Considerations
When you shop for a microwave oven, keep in mind the sizes of the containers and utensils you use and match oven-cavity dimensions to your current needs. Take your tape measure along to a retail store and verify that your favorite bowls or trays fit vertically and horizontally within the microwave ovens you're considering. If you decide to opt for an over-the-range appliance, check your cabinets and vent location to see how much, if any, storage space you'll need to devote to ductwork.
We Recommend
Samsung is a registered trademark of Samsung Electronics Co., Ltd. All other brands, products and services, and their respective trademarks, names and logos, are the property of their respective owners. All apps referenced, except where otherwise noted, are available in the Samsung GALAXY Apps store. For more information on any referenced apps, products or services, see the respective websites.
The above content is provided for entertainment and information purposes only. All information included herein is subject to change without notice. Samsung Electronics is not responsible for any direct or indirect damages, arising from or related to use or reliance of the above content.