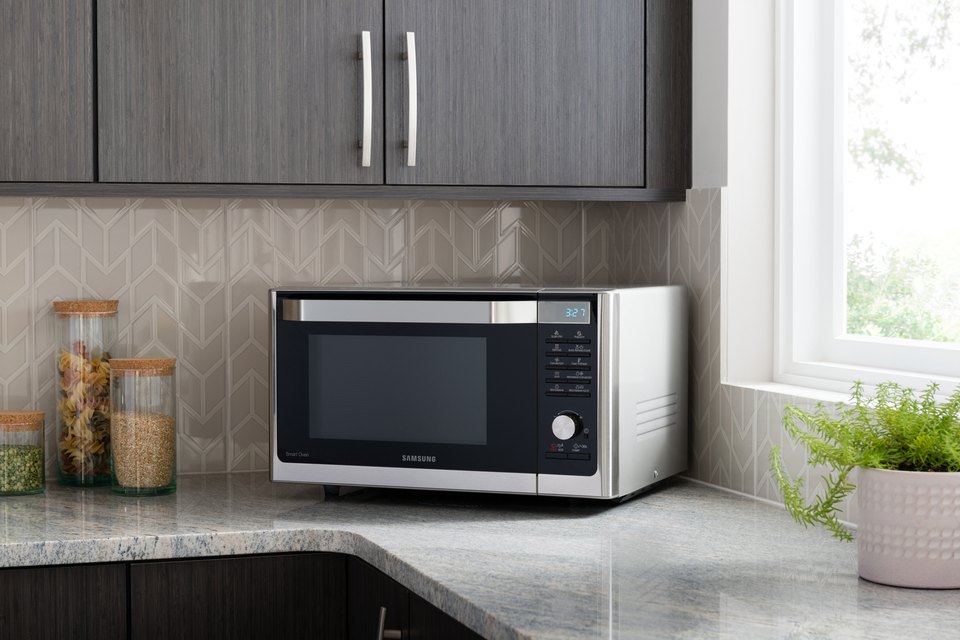 A microwave oven can make a vital contribution to any cook's food preparation options, far beyond the TV dinners and popcorn at the heart of its role as a convenient way to make fast food at home. You can integrate a microwave into kitchen designs from high style to comfy casual. How and where you install your microwave depends on the type of appliance you buy and the layout of your space.
Over the Range
When you select an over-the-range microwave oven, your appliance typically includes downward-facing lighting that illuminates the range top and ventilation features that enable it to double as a range hood. Some over-the-range models can vent through the top or back of the unit, or simply filter and recirculate air without exhausting it outside. To use a vented model, you need a through-the-wall connection to the outdoors. Placing these microwaves in service requires some installation savvy to handle construction and installation tasks.
Built In
A built-in microwave installation makes the appliance look like an integrated part of stock or custom wall cabinets. To accomplish this sleek, high-end look, you'll need to accommodate the oven's need for air exhaust. Setting up this kind of placement option can require some advanced construction techniques and carpentry skills. You may need to consult -- or hire -- a contractor if the task exceeds your capabilities.
Countertop
If you have countertop space to spare in an area that can accommodate a microwave oven near an electric outlet as well as close to the rhythm of food preparation, you can position the appliance on an island, peninsula or wall-mounted counter. Keep extra power-cord length out of the way of your work space to avoid electrical hazards. Before you choose the spot to place your oven, check the location of its exhaust vents so you can avoid placing them near a wall or other obstacle that impedes proper airflow.
Cart
A storage cart that doubles as an appliance platform can enable you to keep microwave cookware near your oven and preserve precious counter space for food preparation. If you select a cart with casters, choose one that includes locks to hold the cart in place. Many of these pieces of furniture fall under the heading of "assembly required," so make sure you're up to the task of putting it together if you select a cart that doesn't ship ready to use.
We Recommend
Samsung is a registered trademark of Samsung Electronics Co., Ltd. All other brands, products and services, and their respective trademarks, names and logos, are the property of their respective owners. All apps referenced, except where otherwise noted, are available in the Samsung GALAXY Apps store. For more information on any referenced apps, products or services, see the respective websites.
The above content is provided for entertainment and information purposes only. All information included herein is subject to change without notice. Samsung Electronics is not responsible for any direct or indirect damages, arising from or related to use or reliance of the above content.