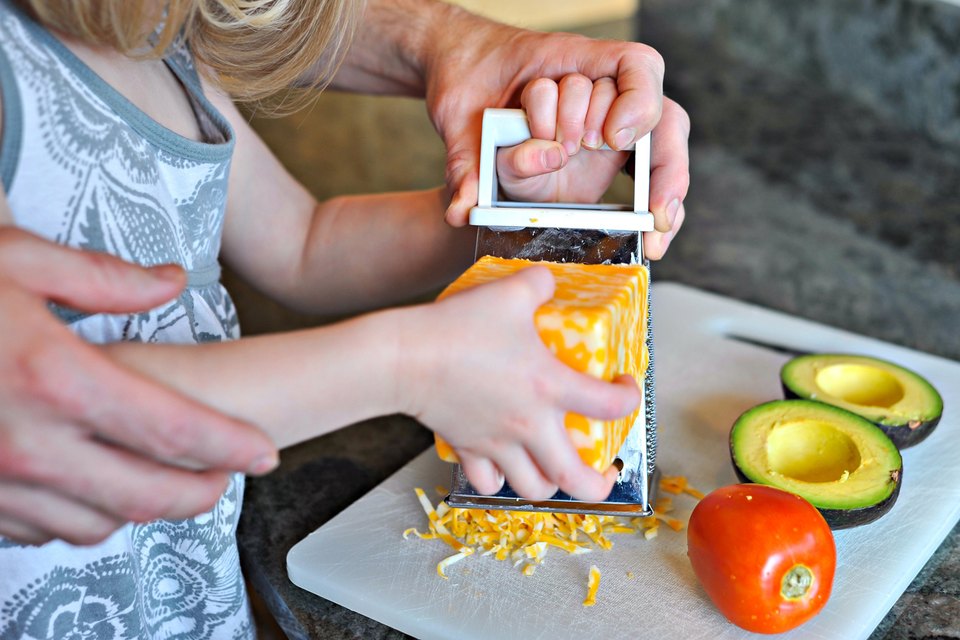 Food can bring families closer together in many ways that don't actually involve eating. When you team up in the kitchen with your child, you can create a learning experience that emphasizes patience, precision, measurements, timing and fun. Whether you prepare simple no-bake creations or break out the yeast and make bread, you can help your child gain mastery of the kitchen, as well as enjoyment in the kitchen, at any age.
Safety
Kitchen safety comes first, especially when you involve the younger generation. Heat sources pose an immediate and obvious concern, including the oven and what comes out of it, the rangetop and what sets on it, and the microwave's greatest hits.
Sharp edges also rank high on the risk list, including knives, as well as food processor and mandoline blades and even the edges on a handheld cheese grater. When you use pointy items to attach food items together, swap out toothpicks with pretzel rods or rigid vegetable slivers.
Finally, licking the batter bowl may be a treat, but if the mixture includes raw eggs, exclude it from the fun.
Age Appropriateness
Depending on how integrally you plan to involve your child in the food-preparation process, look for age-appropriate recipes and tasks to share. Really little ones may be limited to handing you items that you set out in advance, watching you measure and reading the numbers off a measuring cup, or using an alternate set of measuring spoons to dole out water from one cup to another.
Older children can play an active role in the process of choosing and preparing a dish, whether you start by soliciting their help in selecting main ingredients that point the way to a recipe selection or you delegate tasks to them. If your kitchen includes a Wi-Fi® enabled refrigerator, your child can enter ingredients, look for recipes or help with the digital shopping list. Seasonal or holiday preparations can be ideal ways to involve your child in what becomes a family tradition.
Collaboration
Regardless of the extent to which you involve your child in the real work of the recipe the two of you prepare, your time in the kitchen should feel like a real collaboration. Even if the cookies turn out a bit lopsided or the cake won't win any awards for its decoration, the real point of the exercise centers around providing a meaningful shared experience and reinforcing the importance of cooking competency as a basic life skill.
Whether you bake bread and show your daughter the scientific fascination of yeast's behavior or you cook lasagna and enlist your son's help in positioning pasta in the cooking dish, the learning and togetherness mean as much as the food you prepare. Take the time to explain how cooking technology works, too. For example, if your range includes an induction cooktop, place a piece of paper under a ferrous-metal utensil filled with water and show your child that the water gets hot but the paper doesn't burn. Likewise, show your child the fan that moves air through a convection oven and explain how its hot breeze helps produce excellent bread textures and crusts.
Other Considerations
Powering your way through a batch of baked goods for your child's school may not offer the kind of relaxed, restful learning you want to share. Hurrying through steps too quickly to answer questions or not involving your child as much as you'd like can shortchange the value of your time together.
Along with the fun of preparation, involve your child in the cleanup, too, as much to validate the importance of its steps as to show the best ways to tidy up spills and spots. Loading the dishwasher together can be a great way to encourage good habits, but make sure to give little ones lightweight items such as flatware or small saucers.
Finally, if your child demonstrates food allergies that require you to skip certain recipes and reconfigure others to leave out the nuts or eggs, you can make shared cooking an experience that reinforces healthful eating as well as allergen avoidance.
Photo Credits: Heidi Monner/Demand Media
We Recommend
Samsung is a registered trademark of Samsung Electronics Co., Ltd. All other brands, products and services, and their respective trademarks, names and logos, are the property of their respective owners. All apps referenced, except where otherwise noted, are available in the Samsung GALAXY Apps store. For more information on any referenced apps, products or services, see the respective websites.
The above content is provided for entertainment and information purposes only. All information included herein is subject to change without notice. Samsung Electronics is not responsible for any direct or indirect damages, arising from or related to use or reliance of the above content.