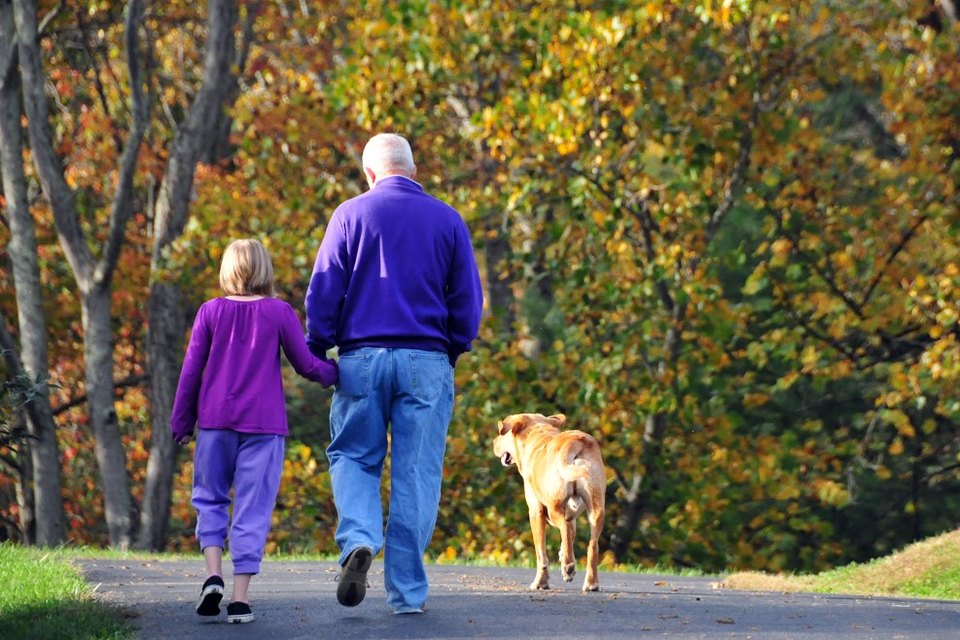 Unlike younger generations with family needs that match their just-starting-out status, grandparents may seem to have everything they want. That doesn't mean you can't find thoughtful gifts to give them on holidays and birthdays, however. Whether you center your presents around family life or make use of special occasions to offer them a helpful hand in ways that don't involve tangible gifts, you can demonstrate loving thoughtfulness that befits your relationship.
Family Album Book
The family photos you take with your digital camera and smartphone reveal candid moments that stop time in its tracks. Many services enable you to assemble and upload your photos in a design that becomes a bound, printed book suitable for proud grandparents to display on a coffee table. Some of the best images for these creative family keepsakes bring together an entire generation into a lineup reminiscent of a year's-end school-class photo. Look for a theme among your pictures, including seasonal scenes, fun with pets or life in the kitchen with little ones.
Family Calendar
For a less-grand take on the photo-based keepsake, make your own family calendar on your home computer and printer. Check the user guide for your printer to verify the weights of paper it can accommodate, so you can produce sturdy pages that withstand handling. Before you print, assemble the same number of sheets as your finished design contains and verify that you can hang it from a refrigerator magnet without it sliding down the appliance door. You can create a basic design for a calendar grid in a graphic-design application, word processor or even by using the cells in a spreadsheet program. You'll need two page designs for the classic setup that places two landscape pages together along their long dimension, including a monthly grid and a photo page with month and year. When you complete the process of designing and printing your project, take it to a quick printer to have it bound with a plastic coil and punched with a hanging hole.
Tech Support
If you and your children provide the answers to your parents' "how do I do that" questions about their gallery of techno-gadgets, you can create a formal-sounding family technical support "company" name and have your children provide help as "employees." Depending on your children's ages, they already may be the unofficial family tech guides, and they may enjoy presenting their grandparents with gift certificates they design on your home computer. To make your certificates look even more official, print them on heavy paper and have a quick printer turn them into a padded form. This process places sheets of paper atop a cardboard base and applies a rubbery compound along a binding edge, producing a sheet-at-a-time tear off pad.
Spares & Refills
To grandparents with a new refrigerator, printer, camera or computer, offer a practical gift that serves as a year-long subscription, providing them with all the filters, toner cartridges, memory cards or computer media they need. Refrigerators with ice and water service through the freezer door use filters to perfect what they dispense. These filters require replacement after they process a specific gallonage. Likewise, color printers rely on a steady diet of consumables to produce page after page of output. Cameras and computers use memory cards and optical media for file storage. You even can provide your loved ones with LED lamps to replace their incandescent bulbs. Present a package that includes enough refills for a year or a redeemable set of refill cards that you make up on your home computer.
Photo Credits: Heather Milward/Demand Media
We Recommend
Samsung is a registered trademark of Samsung Electronics Co., Ltd. All other brands, products and services, and their respective trademarks, names and logos, are the property of their respective owners. All apps referenced, except where otherwise noted, are available in the Samsung GALAXY Apps store. For more information on any referenced apps, products or services, see the respective websites.
The above content is provided for entertainment and information purposes only. All information included herein is subject to change without notice. Samsung Electronics is not responsible for any direct or indirect damages, arising from or related to use or reliance of the above content.