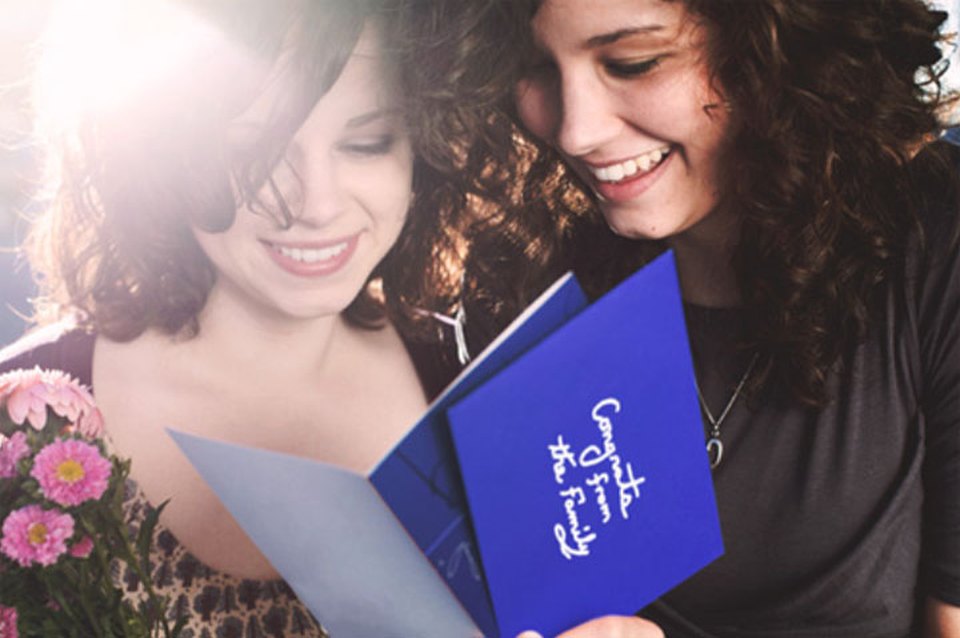 Whether your grad is finishing grade school or grad school, it's important to let them know how proud you are of their accomplishment. A great present always goes a long way, but a thoughtful card really hits the message home. Here are a few ideas to help you add that personal touch.
IDEA #1: EVOLUTION OF A GRAD
The Concept: Drawing on your family's photo archive and with a little help from your computer or camera, you can build an image montage that shows your graduate from infancy to present day. Standard school pictures are always great for showcasing the funny missing-teeth and awkward years, but try going a step further and creating a theme. If your grad has played a sport since he or she started walking, then include pictures from the first time at bat to the last homerun. This also works for grads who played a musical instrument, danced, acted and even sang their way through school.
The Final Product: You can go the old-school route and put the card together with a pair of scissors and construction paper or scan and upload the images to create a digital card complete with animation and a soundtrack. With all the editing software and apps available, there's no limit to what you can do with your laptop or tablet.
IDEA #2: ALL IN THE FAMILY
The Concept: Even if the entire family can't make it to the graduation ceremony, they can still help put together an extra-special card. Send an email to aunts, uncles, cousins, grandparents and even close friends, both near and far, asking them to send a special message for the graduate. To avoid having the same "Congratulations!" message repeated numerous times, ask for something specific, like sharing a funny memory or a special wish for the future.
The Final Product: Once you have all the messages, get creative with the presentation. It can be as simple as binding together fancy paper to create a massive card or as elaborate as a slide show that incorporates your grad's favorite music and shows the messages alongside pictures of the grad and relative who wrote it.
If you're feeling extra ambitious, you could ask everyone for a short 10-second clip and create a video card. With the advanced features of smartphones and tablets, it won't take long for everyone to make a short clip and quickly send it over by email or text. When it's done, share the final product with everyone on YouTube. But don't forget to send it to your grad first.
IDEA #3: MIX IT UP
The Concept: Add up the ways in which your family members like to express themselves, and you may come up with a long list of art styles and craft media, including sewing, crocheting, knitting, painting, drawing, digital artwork, scrap-booking, photography and printmaking. To make a "card" that congratulates the graduate in all your varied means of expression, ask your family members to create congratulatory remembrances using their individual media.
The Final Product: This "card" could potentially be the gift as well. If Grandma Betty likes to sew, she might create a memory quilt with old school shirts. If Uncle Bob enjoys woodworking, he could make a frame with a special engraving, perfect for a new diploma. If little Cousin Molly just discovered a box of crayons, her work of art would look great in your grad's new home or cubicle. Place the entire set of mementos in a box decorated with a picture of your graduate and present it as a mixed-media time capsule that will hold its family value for years to come.
IDEA #4: SPECIAL DELIVERY
The Concept: Some families create traditions that involve sending more than one card to recognize an event or occasion. Surprise your graduate with a card each day for the entire month leading up to commencement.
The Final Product: You can make each card a celebration of the number represented by the days remaining. For example, for the card you present when 14 days remain till the big day, include remembrances of the graduate at age 14, a list of 14 special things she's done and 14 joking suggestions for what she should do before or after the ceremony. You can mail the cards one by one, hide them in a text book or place them on a chair before dinner. If you grad is far away, send a combination of paper cards, ecards or a short video. You could even get the roommates to help out by sending them the cards to place all over the apartment.
We Recommend
Samsung is a registered trademark of Samsung Electronics Co., Ltd. All other brands, products and services, and their respective trademarks, names and logos, are the property of their respective owners. All apps referenced, except where otherwise noted, are available in the Samsung GALAXY Apps store. For more information on any referenced apps, products or services, see the respective websites.
The above content is provided for entertainment and information purposes only. All information included herein is subject to change without notice. Samsung Electronics is not responsible for any direct or indirect damages, arising from or related to use or reliance of the above content.